Hausverbot für Grundrechte – Was darf Security im Aufnahmelager?
WANN? Donnerstag, 13.01.2022, 19 – 21 Uhr
WO? Digital über BigBlueButton; https://tinyurl.com/LWT-1301
Im November 2021 wurde ein Video von Bewohner:innen des Erstaufnahmelagers in Suhl öffentlich, das den skandalösen Umgang von einzelnen Sicherheitsdienstmitarbeitern zeigt. Die verbalen Ausfälle und die Gewalt durch den Sicherheitsdienst, die mit dem Video wiederholt öffentlich wurden, beschreiben dabei längst keinen Einzelfall.
Gemeinsam mit Expert*innen stellen wir uns im offenen Austausch den Fragen:
Was darf Security im Aufnahmelager und auf welcher Grundlage?
Wie sieht die Realität des Umgangs mit Bewohner*innen im Erstaufnahmelager Suhl aus?
Welche praktischen Handlungsmöglichkeiten gibt es?
Der Austausch und die Veranstaltung finden auf Englisch statt und wird bei Bedarf simultan ins Deutsche übersetzt.
Über Lager-Watch Thüringen: Gemeinsam mit geflüchteten Betroffenen von Lagerunterbringung und Unterstützer*innen dokumentieren wir die strukturelle, rassistische und physische Gewalt von Lagerunterbringung in Thüringen. Unser Ziel ist es, die Missstände und die Verhältnisse in den Thüringer Lagern sichtbar zu machen. Bisher sind wir hauptsächlich rund um das Erstaufnahmelager in Suhl aktiv.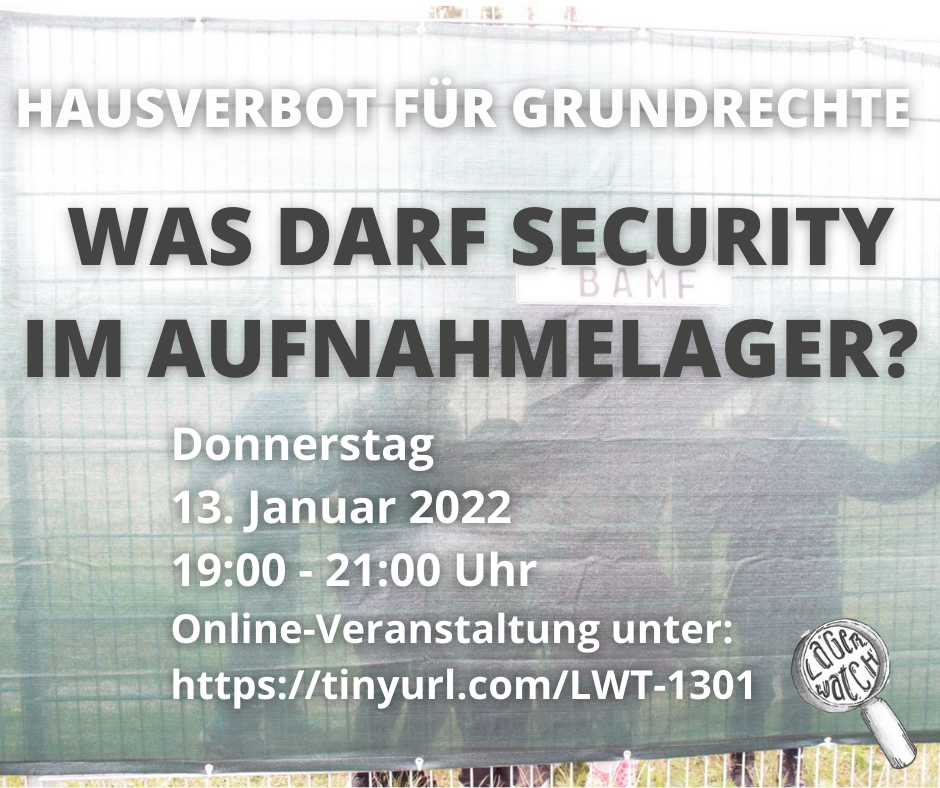 —
Ban for fundamental rights – What is camp security allowed to do in the reception center?
WHEN? Thursday, January 13th, 2022, 7 p.m. – 9 p.m.
WHERE? Digitally via BigBlueButton; https://tinyurl.com/LWT-1301
In November 2021, a video by residents of the initial reception center in Suhl became public, showing the scandalous treatment by individual security employees. The verbal abuses and violence by the security, which were repeatedly made public with the video, do by no means describe an isolated case.
Together with experts, we ask ourselves the following questions in an open exchange:
What is security allowed in the reception center and on what basis?
What is the reality of dealing with residents in the Suhl initial reception center?
What are the practical possibilities for a response?
The exchange and the event will take place in English and will be simultaneously translated into German if necessary.
About Lager-Watch Thuringia: Together with refugees affected by camp accommodation and supporters, we document the structural, racist and physical violence of camp accommodation in Thuringia. Our goal is to make the grievances and conditions in the Thuringian camps visible. So far we have mainly been active around the initial reception center in Suhl.